Luciano Del Signore
Bacco Ristorante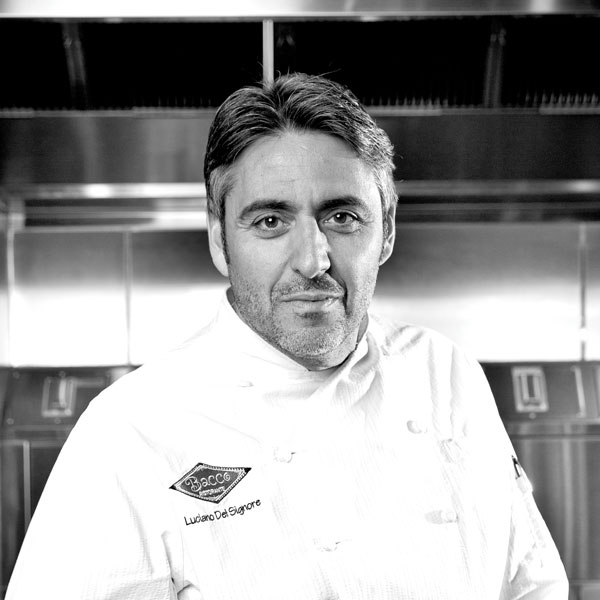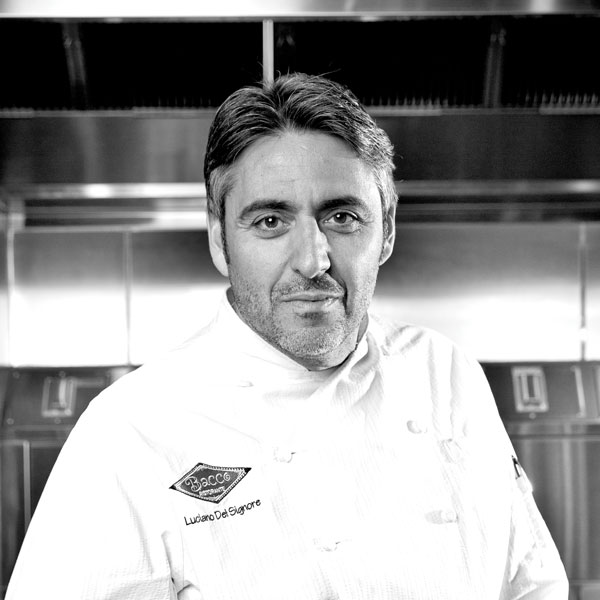 Like many chefs, Luciano Del Signore always had a love affair with food even from an early age. And like many chefs Luciano followed a path to culinary success characterized by countless hours in the kitchen, a tireless work ethic and insatiable desire to learn.
Born in Garden City, Michigan to immigrant parents from the Italian region of Abruzzo, Luciano had two things ingrained in him from a young age: A passion and appreciation for Italian food and a work ethic characteristic of a different era.
Luciano's father Giovanni, perhaps unbeknown to him at the time, started Luciano on his culinary path when he opened two Italian specialty grocers before going on to establish Fonte d'Amore, a trattoria-style Italian restaurant in Livonia, Michigan in 1974. Luciano naturally gravitated toward the restaurant. Never one to just hang around, Luciano started with the less glamorous jobs of busboy and dishwasher before moving on to waiting tables and eventually working in the kitchen at the age of 15.
Two years later at age 17 Luciano graduated high school and decided it was time to leave the comfort of his surroundings. He ventured to his culinary homeland – Italy – and spent six months working in restaurants in Sulmona and Roccaraso, absorbing new techniques and living an experience that would shape his philosophy and approach to Italian cooking.
Luciano returned from Italy and enrolled in the Culinary Arts program at Schoolcraft College while also running the back of the house full time at Fonte d'Amore. After eight years and a lot of prodding, Luciano convinced his father to temporarily close the restaurant to renovate the interior and do a complete overhaul of the menu.
When the doors reopened at Fonte d'Amore in 1990, Luciano's vision of a high-end, fine-dining Italian restaurant was realized. The revamped Fonte d'Amore was met with rave reviews and the food inspired patrons to drive from across Metro Detroit to dine in the restaurant.
Following his personal mantra of evolving the dining experience, Luciano soon had plans for another restaurant. In 2001 he came across a restaurant for sale and in March 2002 he opened the doors to Bacco Ristorante, consequently closing Fonte d'Amore. After five years of studying options for a second Bacco location, Luciano abandoned his plans for a second fine dining location. Instead, he turned his attention to another Italian culinary gem that is frequently bastardized: Pizza. In June 2010 Luciano opened Bigalora Wood Fire Cucina, applying his same philosophy of quality ingredients, simple preparation and balanced flavors. The result was an authentic 'pizza napoletana' cooked to perfection in a 40,000 pound wood burning oven.
Fast forward to today and you'll see no signs of Luciano slowing down; he's on his fourth restaurant that opened in November 2013. He splits his time between Bacco and Bigalora and is still involved in near every facet of the business from expediting orders to re-creating the menu. He resides in Bloomfield Hills, Mich. with his wife Monica and their three children.